Choosing the Best Commercial Ice Machine
How to choose your Commercial Ice Machine
Nearly every type of food service business needs an ice machine. Because there are so many different configurations and styles available, it's important to understand what is available to find the best ice maker to suit your business's needs.
Ice Maker Types
While there are variations within each type, commercial ice machines generally fall into four basic types including modular or ice machine head, undercounter ice machines, countertop ice dispensers/makers, and combination ice/water machines
Modular or Ice Machine Head
These produce large amounts of ice and should be used with a separate unit that can store and dispense the ice. Modular ice machines are commonly available in 22", 30" and 48" widths, and are designed to sit on top of and supply ice to an ice machine bin, an ice machine dispenser, or a soda dispenser. Ice outputs range from 250 lbs. per day to well over 1000 lbs. per day.
Undercounter Ice Machines
These small ice makers combine the ice machine with a storage bin, and fit under most 40" high counters. For small bars, cafes, or businesses that don't need as much ice, an undercounter, or self-contained ice machine may be all that's needed. Ice outputs generally top out at about 350 lbs. per day, though a few higher capacity models do exist.
Countertop Ice Dispenser / Makers
Countertop ice dispensers / makers have a small ice storage bin but can still produce up to 400 lbs. of ice per day, making them a great small commercial ice maker. These compact units are often found in health care settings, and may dispense water too. They also usually dispense nugget style ice, which is easier to chew.



Combinations Ice / Water Machines

Able to dispense both water and ice, these compact units are great for cafeterias, break rooms, and healthcare facilities. Able to produce up to 500 lb. of ice per day, these machines typically have a small footprint to fit on any countertop without taking up too much space. Ice/water dispensing machines also usually produce nugget ice.
Types of Ice
Understanding the different types of ice cubes that commercial ice machines can produce will help you choose the right type for your needs. Certain types of ice cubes melt slower, are easier to chew, or have specific shapes to accommodate specific applications. Check out the list below for a more detailed explanation of common ice types.
Cube Ice
Cube ice is the most common ice used in commercial businesses as it melts slower than other ice types. Since it melts slower you can potentially reduce customer ice consumption, saving money in the long run. Cube ice comes in full cube, half cube, and regular cube sizes.
---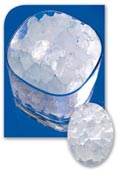 Nugget Ice
Nugget ice, sometimes called "chewblet" ice, is most common in health care facilities. It is slow melting but also softer and easier to chew than cube ice. Nugget ice machines are ideal for making smoothies, blended drinks, and cold beverages
---
Flake Ice
Flake ice is almost exclusively used in ice displays for chilled meats or salads, but can also be used in blended drinks. It is also softer and easier to chew than cube ice. Flake ice machines make small, soft flakes of ice that cool rapidly and mold to any shape.


Compressor Types
Once you've decided what type of machine and ice you want, the next important consideration to make is whether you want an air-cooled, water-cooled, or remote compressor.
Air Cooled
Air cooled ice machines are often the most cost-effective type of ice machine, as they do not involve any additional water costs. Many air cooled models even achieve Energy Star Compliance. Air cooled condensers do need at least 6" of clearance around air intake and discharge areas, but they are a good choice for the majority of users.

---
Water Cooled
A water cooled ice machine is a better choice than an air cooled model only if one or more of the following conditions exists:

The machine would be installed where ambient air temperatures are greater than 80 degrees Fahrenheit

The machine would be installed in an area where the air contains a high level of contaminants, like grease

The machine would be installed in an area with poor air circulation or limited space where clearance limitations of an air cooled machine could not be met
Again, unless one or more of the above conditions exist, a water-cooled machine is probably not the best choice, since water consumption will be much higher than with an air cooled ice machine. In fact, some municipalities do not even allow the use of a water cooled ice machine for that reason!
---
Remote Cooled
With remote condenser ice machines, the condenser is air cooled, and mounted outdoors, usually on a roof. Refrigerant lines run between the condenser and the machine. As a result, a remote condensing ice machine will be much quieter than its air or water-cooled counterparts.
However, installation and maintenance of a remote setup can be much more costly, and a remote condenser ice machine is usually only chosen if conditions prohibit the use of an air cooled or water cooled unit.
Ice Machine Sizing
Once you've settled on the type of ice machine you need and the type of ice you want, you must select a machine with the right capacity for your needs.
For new businesses: Make sure your estimates allow for growth, or you could quickly exceed the production capacity of the machine you wish to purchase.

For replacement ice machines: Did your current ice machine keep up with demand? If not, you will need to evaluate how much capacity you were lacking and factor that into your calculations.

For everyone: Ice consumption at peak times should be considered, as well as any possibility for a future increase in demand. It's always better to have extra ice on hand than to rely on a machine that is too small to meet your needs.
---
Benefits of Using Multiple Ice Machines
It may seem easier to supply all your ice from one large machine and bin, but in the end this is usually inefficient. With only one large machine, your staff will constantly be running back and forth from the ice bin to soda machines, under bar ice chests, and salad bars…costing you time and also increasing chances of cross-contamination.
Instead, consider using several smaller machines, one on top of the soda dispenser, a small underbar unit, and a small ice maker with a bin near your salad bar, for example. This way your staff will always have ice when and where they need it, while also keeping the ice safe and sanitary!
---
Installation Considerations
Space and Ventilation: Make sure you have enough space for the machine, bin, and filter. Adequate air flow is crucial for maximum ice production, so installing an ice machine in a storage room or closet is not recommended. Read the manufacturer's specification sheet carefully to ensure that you have the proper amount of space for the install, and consider the placement of the machine and bin within your operation as well. A well-placed ice machine can increase worker productivity and efficiency, but a poorly placed ice machine can cost you more for labor and utilities.

Water Supply & Floor Drain: Your ice machine will need a cold water supply with a shutoff valve. A floor drain is needed too. Check your local codes for specific drain type and placement requirements.

Power Supply: Many ice machines do not come with a cord and plug, so a visit from your electrician will be needed to hard wire the machine. Make sure you understand and can meet the machine's power requirements—not all machines operate on standard 110V electric. Electrical requirements and any other special installation considerations will always be found on the machine's Specification Sheet.
Use the chart below to get an idea for how much ice you might use. It's also important to keep in mind that ambient room temperature and ventilation considerations will affect the maximum output of any ice machine. This information is usually available on the manufacturer's specification sheet.
Ice Sizing Guide (Includes 20% Safety Factor)
| APPLICATION TYPE | TYPICAL DAILY ICE USE | ICE NEEDED FOR 100 CUSTOMERS | ICE NEEDED FOR 250 CUSTOMERS | ICE NEEDED FOR 500 CUSTOMERS | ICE NEEDED FOR 1000 CUSTOMERS | ICE NEEDED FOR 1500 CUSTOMERS |
| --- | --- | --- | --- | --- | --- | --- |
| Restaurant | 1.5 lbs ice per meal sold | 180 lbs. | 450 lbs. | 900 lbs. | 1800 lbs. | 2700 lbs. |
| Cocktail Bar | 3 lbs. ice per seat | 360 lbs. | 900 lbs. | 1800 lbs. | 3600 lbs. | 5400 lbs. |
| Water Glass | 6 oz. ice per 12 oz. glass | 45 lbs. | 113 lbs. | 225 lbs. | 450 lbs. | 675 lbs. |
| Salad Bar | 35 lbs. ice per cubic foot | --- | --- | --- | --- | --- |
| Beverage Only | 5 oz. ice per 7-10 oz. cup | 38 lbs. | 94 lbs. | 188 lbs. | 375 lbs. | 563 lbs. |
| Beverage Only | 8 oz. ice per 12-16 oz. cup | 60 lbs. | 150 lbs. | 300 lbs. | 600 lbs. | 900 lbs. |
| Beverage Only | 12 oz. ice per 18-24 oz. cup | 90 lbs. | 225 lbs. | 450 lbs. | 900 lbs. | 1350 lbs. |
| Guest Ice | 5 lbs. per hotel room | 600 lbs. | 1500 lbs. | 3000 lbs. | 6000 lbs. | 9000 lbs. |
| Hotel Catering | 1 lb. per person | 120 lbs. | 300 lbs. | 600 lbs. | 1200 lbs. | 1800 lbs. |
| Patient Ice | 10 lbs. per person | 1200 lbs. | 3000 lbs. | 6000 lbs. | 12000 lbs. | 18000 lbs. |
| Cafeteria | 1 lb. per person | 120 lbs. | 300 lbs. | 600 lbs. | 1200 lbs. | 1800 lbs. |
Factors that Can Affect Ice Machine Output
While the output listed on the ice machine's product page is a good estimate of how much ice it will make in a 24 hour period, there are some things that can be detrimental to your ice machine's performance. If you know that one of these things is an issue at your location, you will want to take that into account when choosing a new ice machine. Also, if your current ice machine is not making as much ice as it used to, these are a few things to check for as you troubleshoot the problem.
Ventilation / Air Temperature: Especially for air-cooled units, the amount of ventilation and the air temperature can dramatically affect ice output. Poor ventilation can create high ambient temperatures, and even installing the ice machine in a hot kitchen environment can make the unit work harder. This will reduce how much ice the machine can put out in a 24 hour period. To make sure that your machine produces at its optimum level, be sure to carefully read the ventilation and air temperature requirements in the spec sheet and manual for the unit you choose. That way you will be able to make an informed decision about whether that ice machine will meet the needs of your business.

Water Temperature: Make sure that the potable water you are feeding to your ice machine is at the proper temperature. If the potable water (the water that is turned into ice) is too warm, the machine will need to work harder and take longer to make ice. Also, if you use a water-cooled ice machine you will need to make sure that the cooling water is at the proper temperature, too. Every ice machine's spec sheet and manual will list the optimum temperatures for incoming water.

Water Quality: Hard water can leave mineral deposits on internal components and in water lines, which will slow down the flow of water in your ice machine. This will affect how quickly and efficiently your ice machine can work. To avoid this issue, make sure that your feed water is properly filtered and be sure to clean your ice machine as recommended by the manufacturer.

Cleanliness: It is important to follow the manufacturer's cleaning recommendations to ensure that your ice machine stays at optimum output. Buildup in water lines and on internal components can block water flow and obscure sensors which in turn slow down production.
Ice Machine Bin Sizing
An ice machine bin lets you hold ice until it's ready for use. When picking a bin to go with your modular ice machine, you'll want to take several points into consideration:
Choose a bin / machine combination that's too large, and it could result in wasted ice, making the bin a breeding ground for bacteria and mold due to excess melt water.

Choosing a small ice machine and bin combination might leave you running out of ice and taxing your machine as it struggles to keep up.

Don't assume the bin has to match the capacity of your machine. If your restaurant is busiest on the weekend, for example, you might need 900 lbs. of ice, but not nearly that much during the week. Pairing a small ice machine with a large bin will ensure you don't over-produce during the week, and that you'll still accumulate enough ice to handle the weekend rush.
You can find compatible bins in the Companion Items of most of our modular ice machines.
Filters
To prolong the life of your restaurant ice machine and increase your customers' satisfaction (remember, ice is food), we recommend using a water filter with every ice machine, because it will reduce the buildup of mineral deposits within the machine. The benefits of using a water filter with your unit cannot be understated, but here are just a few:
Better tasting beverages

Higher ice production

Lower energy usage, since the ice machine can work more efficiently

Longer ice machine life

Poor quality feed water will VOID THE WARRANTY on most ice machines
We offer two sizes of ice machine filter kits that will work with all the types of ice machines we carry. They are located in each machine's Companion Items.
Accessories
Ice Dispensers
An ice dispenser is similar to a bin in concept - it holds ice until use but it eliminates human contact with the ice supply by using a sensor or lever dispenser system. There are two basic types:
Hotel Dispensers: A modular ice machine is mounted on top and the dispenser holds the ice. This lets guests get ice at their leisure and you don't need to worry about them contaminating the ice with hands, cups, etc. We even offer several models that are coin operated, while room-key operated models ensure that only customers use your ice.




Countertop Dispensers: These are most common at nurse stations and other healthcare applications due to their compact size, and many also dispense water, too. We offer two types, ones that include a built in ice machine and models that require the ice be loaded manually.
---
Bin Adapters
Bin adapters are used in several situations.

Installing one or more small ice machines on a big bin

Installing an ice machine on top of an ice dispenser

Installing one brand of ice machine on a different brand of ice machine bin
Keep in mind that many more types of adapters are available for very specific situations, and are often listed on the manufacturer's Specification Sheet. Depending on your application, you may also need an ice deflector in place of or in addition to the adapter.
Ice Machine Cleaners & Sanitizers
Even with the proper filter kit your machine will still gradually accumulate mineral deposits on the interior, harming performance and efficiency. Our Chemical cleaners and sanitizers are safe for use in all ice machines and will remove these buildups, while also protecting tin and nickel-plated evaporators! The cleaner is available in both a concentrated cleaner and a ready to use formula.